Agitation Resource, Inc. Product Description
ALS Group - Lifting Equipment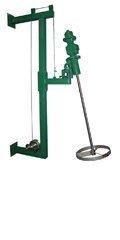 The ALS product group is a comprehensive line of lifters designed to accommodate moveable drums, totes, or vats. Lifting action can be pneumatic, counter-balanced, or mechanical, and mounting may be on wall, floor, or roll-around units.
The ALS series of agitator lifting equipment is specifically designed to enhance productivity and product quality. An ALS lift eliminates the need for employees to lift and move heavy and awkward mixing equipment from totes, drums or other smaller vessels. Lift stations can be configured to accommodate the mounting requirements of all top entry and portable agitators regardless of impeller type.
A pneumatic cylinder may provide the lifting capability of the ALS equipment with controls for up and down direction, as well as, for speed of movement, a complete counter balance or a manual mechanical wench. Either choice eliminates the physical burden of relocating equipment.
The ALS product is offered in three basic configurations; 1) wall mounted, 2) free standing 3) roll-around. The wall-mounted units are most appropriate when production floor space is limited. These units have the smallest footprint of all lifting devices and allow floor space along walls to be turned into productive areas.
Freestanding units are well suited for applications that require larger agitators or mixing vessels. Freestanding units are ideal when floor space is not an issue or when existing equipment limits access to the mixer. These units may be used as single designated mixer station or grouped in tandem to accomplish multiple mixing objectives.
Roll-around stations are an excellent choice for situational agitation. Their value is realized when the units can be rolled to a site where agitation is required, but may not have been anticipated. When materials require adjustment for any reason, corrections can be made on the spot with ease and speed – down time is greatly reduced or eliminated. When the task is complete, the unit can be rolled with ease to a storage area, to await the next application.