Agitation Resource, Inc. Product Description
ALI Group - In-Line Static Mixers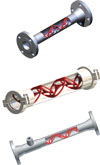 The ALI group of static mixing equipment represents the ultimate in static mixing technology. These units completely mix the process stream to eliminate gradients in material composition for combinations of liquids, gases, or solids. Many industrial applications show significant improvements in processing speed, control and cost using this technology. The units are designed to take full advantage of the hydrodynamic forces present in a stream of flowing liquid while using no moving parts.
Operation:
When liquid flows through holes in the plates the increase in velocity creates vortices that promote highly efficient and thorough mixing. The hole pattern also causes flow division, which is particularly useful in less turbulent applications.

Design Considerations:
The mixers are properly sized for each specific application. The design criteria always include consideration of the viscosity, flow rates, injection rates, retention time, pressure and physical constraints. Materials of construction include PVC, CPVC, polypropylene, PVDF, various stainless steels, nickel alloys, titanium and other materials. Selection of the most appropriate material is based on requirements of the application. The ultimate physical length and diameter of the mixers are determined by the conditions of service. The number, size and location of injection ports for reagents is also determined by process requirements.